Bücher
"All Ages - Reflections on Straight Edge" nimmt die zweite Welle des Amerikanischen Hardcore unter die Lupe. Auch wenn das Thema Straight Edge in diesen Buch weit aufgefächert wird, finden in diesen Buch auch andere Themen Platz. In diesen Buch kommen Mitglieder von diversen Bands zu Wort wie Youth of Today, Slapshot, Bold, Underdog, Side by Side, Gorilla Biscuits, Judge, Inside Out, Chain of Strength, No for an Answer, Supertouch … Neben den ausführlichen Interviews gibt es viele Photos, Flyerabildungen etc.
Dieses Buch beschreibt die amerikanische Hardcoreszene von 1980 bis 1986 sehr ausführlich. Dazu gibt es eine Menge Photos und eine ausführliche Discographie. Ein großartiges Buch das wie der Film seines gleichen sucht.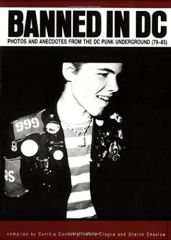 Letzte Neuauflage der sehr beeindruckende Photodokumentation der frühen Wash. DC Szene unterlegt mit Zitaten und Flyerrn! Mit dabei sind Bands wie Bad Brains, S.O.A., Iron Cross, Dag Nasty, Void, Faith, Scream, Government Issue, Marginal Man …
Neu
Bad Brains, Dischord Records, Ian Mackaye, Straight-Edge, Emo, Riot Grrl, Henry Rollins, Fugazi, Minor Threat, Revolution Summer, Rites Of Spring, Bikini Kill, Positive Force, Dag Nasty, No Trend, Iron Cross etc etc -- alles wird in diesem Buch ausführlich abgehandelt. Ein unbeschreibliches Buch von dem Gründer von Positive Force. Mehr als 300 Photos. Ein Monster!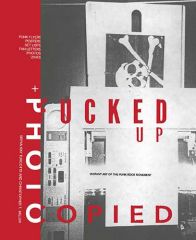 Total geniales Buch, Fucked Up + Photocopied ist eine Sammelung von frühen Showflyern der amerikanischen Hardcore / Punk Szene zwischen 1977 und 1985. Wahrscheinlich das beste Referenzbuch der nordamerikanischen Punk Szene: New York, Los Angeles, San Francisco, Boston, MA, San Jose, CA, Washington, DC, Houston, TX, Canada's Toronto und Vancouver. 240 Seiten, Hardcover.