LP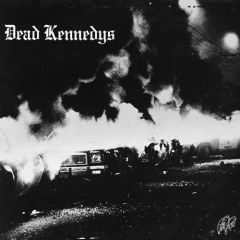 Das ist wahrscheinlich das klassistische Hardcore / Punk Album aller Zeiten und prägte das ganze Genre. Wäre nicht der leidige Streit zwischen den Bandmitgliedern gewesen, wäre Deakd Kennedys weiterhin einer der einflussreichsten Bands überhaupt. Nichtsdestotrotz bleibt "Fresh Fruit For Rotting Vegetables" ein Klassiker. Beinhaltet die grandiosen Songs "California Über Alles", "Holiday in Cambodia", "Kill the Poor", "Viva Las Vegas", "Chemical Warfare" und "Let's Lynch the Landlord". Die ist das Album das jeder Hardcore Fan in seiner Sammlung haben sollte.
"Plastic Surgery Disasters" ist die zweite Full Length von Dead Kennedys welches im Jahre 1982 veröffentlicht wurde. Wahrscheinlich ihr bestes Album. Dead Kennedys gehören mit zu den kontroversesten Bands des Hardcore / Punk Genres, dazu ist das Songwrting der Band unglaublich. Hardcore / Punk das jedem Cliché trotzt. Klassiker!
Endlich werden Die Kreuzen aus ihren Dornrösschenschlaf geholt. Nach der grandiosen Cows And Beer 7" gibt es endlich wieder die Debüt LP aus dem Jahre 1984 auf Vinyl, die seit über 13 Jahren ausverkauft war. Düsterer Midwest Hardcore mit einem überaus hyperaktiven Sänger, der sich die Seele aus der Kehle schreit. Neben Negative Approach, Fix und Necros DIE Band aus dem Midwesten. Bleibt nur zu hoffen das Touch & Go auch die Necros bald aus der Versenkung holt.